Families First NI Education Awards
On Friday 7th February staff had the honour of attending the Families First NI Education Awards in the wonderful Titanic Centre in Belfast. As you know we were nominated in two categories - Best School in Co Antrim and our very own Miss Galbraith was nominated as Best Teacher in County Antrim. We were in no doubt that Miss Galbraith would bring the title home! We are indebted to her for the dedication, commitment and hard work she puts in everyday for our children, but also for the support she is to staff, families and indeed the community of Dervock which she has so faithfully served for over 30 years. We are all SO PROUD of Miss Galbraith, nobody deserves this award more than her! We would like to take this opportunity to thank each and every one of you for taking the time to vote/comment. Thanks also to Louise Flack who nominated us and gave us this opportunity! Miss Galbraith, you are a legend and in the words of one of the comments "not all heroes wear capes" - we think this just sums Miss Galbraith up perfectly!! As you can see from the pictures a wonderful night was had by all who attended (and yes that IS Miss G in a dress!!!!).
Mrs Philpott (School Principal)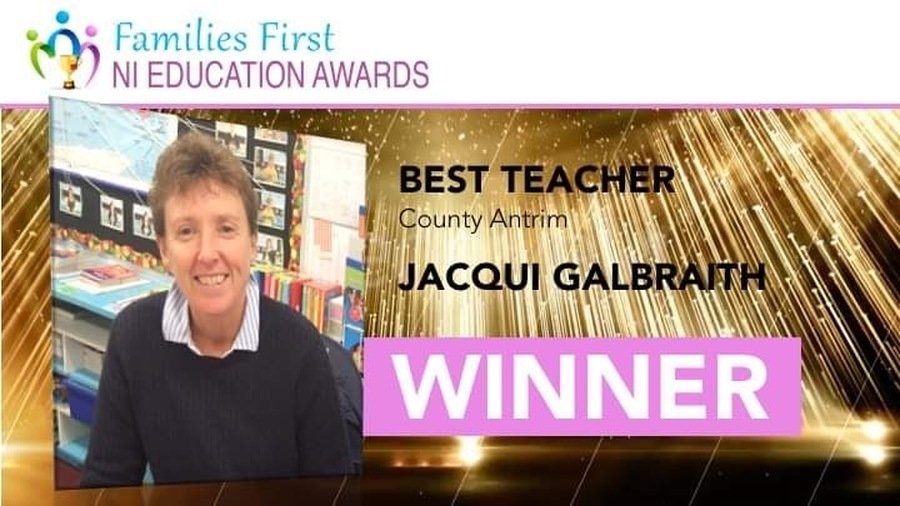 Thank you all so much for your amazing support for my nomination for Best Teacher in Co. Antrim. I have been overwhelmed by comments from my pupils, colleagues, past pupils, parents, grandparents, family and friends. When I began teaching here in 1990 I hardly knew where Dervock was. Now, thanks to you all, it is my home away from home. I have loved being part of this school community and have been privileged to work with incredibly talented and dedicated members of staff. The children have been the best and have brought such joy to my life - I truIy have been blessed by them each and every day. A big thank you also must go to Louise and Mollie Flack who nominated me.
I believe that teaching is a God given gift and I give Him all the honour and glory for this amazing award. Thank you all so much!
Jacqui Galbraith